Product Overview
MICROMARMO FLOOR ULTRA
- 100% Eco-Friendly mineral finish with naturally sourced components.
- FREE from formaldehyde, ammonia, PAH and APEO. Very low VOC.
- Ready to use, in paste form, easy to color.
- Excellent mechanical resistance.
- Better and longer preservation and shelf life.
- Reusable up to 15 days after first opening of the container.
- Ideal for areas with high water stagnation.
- Anti-mold, resistant to algae, fungas and bacteria.
- Can be used outdoors.
- Monocomponent paste form - ULTRA resistant.
MICROMARMO ULTRA is the innovative single- component solution, in paste form, designed for high ARTHE decoration to cover extraordinary and exclusive floors of very low thickness, with unique effects, great resistance performances, applicable on both new and old pre-existing floors. MICROMARMO ULTRA is a professional single-component product in paste form, ready to use, easy to use. It must only be colored, mixed and applied.
It combines the unparalleled aesthetic aspect of MICROMARMO FLOOR with the resistance performance of the epoxy resin and with total absence of yellowing.
With MICROMARMO ULTRA there are no more problems of pot-life, typical of microcement and/or epoxy-based coverings. Once the container is open, the leftover material can be reutilized within the following two weeks, provided that the material is properly sealed, not diluted and well preserved.
MICROMARMO ULTRA is an authentic microcement effect, it does not contain cements and / or other hygroscopic components which, in case of prolonged contact with water, may preclude the performance, protected with MATT or GLOSSY PROTECTOR 2K it proves excellent impermeability to water, especially in case of stagnation.
The performance characteristics of MICROMARMO ULTRA are extraordinary in terms of hardness, flexibility and compression strength, it is a product reinforced with special fibers which contain the micro-movements of the substrate.
MICROMARMO ULTRA is intended to cover interior floors in highly prestigious environments, both public and private, with the particularity of the total absence of joints With MICROMARMO ULTRA it is possible to obtain continuous floor-to-wall solutions of high design and great originality, all this to meet the needs of contemporary architecture. MICROMARMO ULTRA is an alternative solution to traditional tiles for the covering of bathrooms, shower interiors, sauna rooms, kitchens, floors etc. MICROMARMO ULTRA can be used outdoors, on "walking" surfaces (balconies and terraces) where there is no rising damp, calculating the appropriate expansion joints.
METHODS OF APPLICATION
ON CERAMIC TILES
Clean and degrease thoroughly, carefully check for good adhesion and cohesion, and follow the steps below:
Apply with a roller or brush one coat of MICROMARMO PRIMER, distributing the granule evenly, allow to dry for at least 24 hours

Lay the reinforcement net on the floor surface use fiberglass 70-80 gr / m2, taking care to avoid overlapping, it is recommended to leave approximately 5mm distance between joints.

Spread the first layer of MICROMARMO ULTRA with a stainless steel trowel, carefully covering the fiberglass.

After a minimum of 24 apply a second layer of MICROMARMO ULTRA in order to obtain perfect leveling.

Apply the last layer of MICROMARMO ULTRA with the stainless steel trowel in order to achieve the desired effect. It is essential at this stage to take great care in laying the product, avoiding high pressure with the trowel (as for example is done when applying "Marmorino") because this could cause unpleasant dark marks.

After 24 hours, sand over the applied product with a sanding machine equipped with vacuum cleaner, using 80 grit paper, until the required degree of smoothness is achieved.

Perfectly remove any trace of dust, with a damp and well-wrinkled cloth, avoiding drips of water, which may form stains, so that the surface is completely cleaned.
After 24 h, apply a first protective layer MATT

PROTECTOR 2K with short hair roller after catalysing it and mixing for about 3 minutes. Before application it is necessary to filter the compound.

After 24 hours, apply with a smooth roller the final protective layer of MATT PROTECTOR 2K or GLOSSY PROTECTOR 2K after having catalysed it, and mixed for about 3 minutes. Before application it is necessary to filter the compound.
ON ASSORBENT CEMENT SURFACE
Check the actual compactness, vacuum thoroughly, consolidate with DERASOL H2O diluted with water at a ratio of 1:1. Continue the application as on tiles. Avoid applying the product with relative air humidity over 80%); Do not apply on damp substrates or where the presence of rising or infiltrating humidity has been found. Measure with hygrometer, at 4 cm of depth, that the humidity level is less than 3%.
USES: Interior/Exterior/Floors/Showers
AVAILABLE SIZES: 1 Kg & 20 Kgs
SPREAD RATE: 2,5-3,5 Kg./m2 in two coats, according to the desired finish, on a well leveled surface.
APPLICATION: Stainless Steel Trowel
DILUTION: Ready to use. Max 2% of water in the final layer to improve the leveling.
APPLICATION TEMPERATURE: Between 5°C and 30°C
DRYING TO THE TOUCH: 3 h at 20°C.
DRYING COMPLETE: 24 h at 20°C.
TIME BEFORE WALKING: Minimum 24 h at 20°C
PRESERVATION: 12 months in sealed packaging and away from temperature changes.

VIDEO TUTORIALS:
https://www.youtube.com/watch?v=SFFhLtnnXbU&list=PL1rS9wrS85ZUuKrIvOoQklSsXxIgkd2rE&index=1
https://www.youtube.com/watch?v=FP6qGaApJa4&list=PL1rS9wrS85ZUuKrIvOoQklSsXxIgkd2rE&index=2
https://www.youtube.com/watch?v=-hpZP7BiziE&list=PL1rS9wrS85ZUuKrIvOoQklSsXxIgkd2rE&index=3
https://www.youtube.com/watch?v=GrfAZDtKzF4&list=PL1rS9wrS85ZUuKrIvOoQklSsXxIgkd2rE&index=4
https://www.youtube.com/watch?v=rWPdLNwR-0E&list=PL1rS9wrS85ZUuKrIvOoQklSsXxIgkd2rE&index=5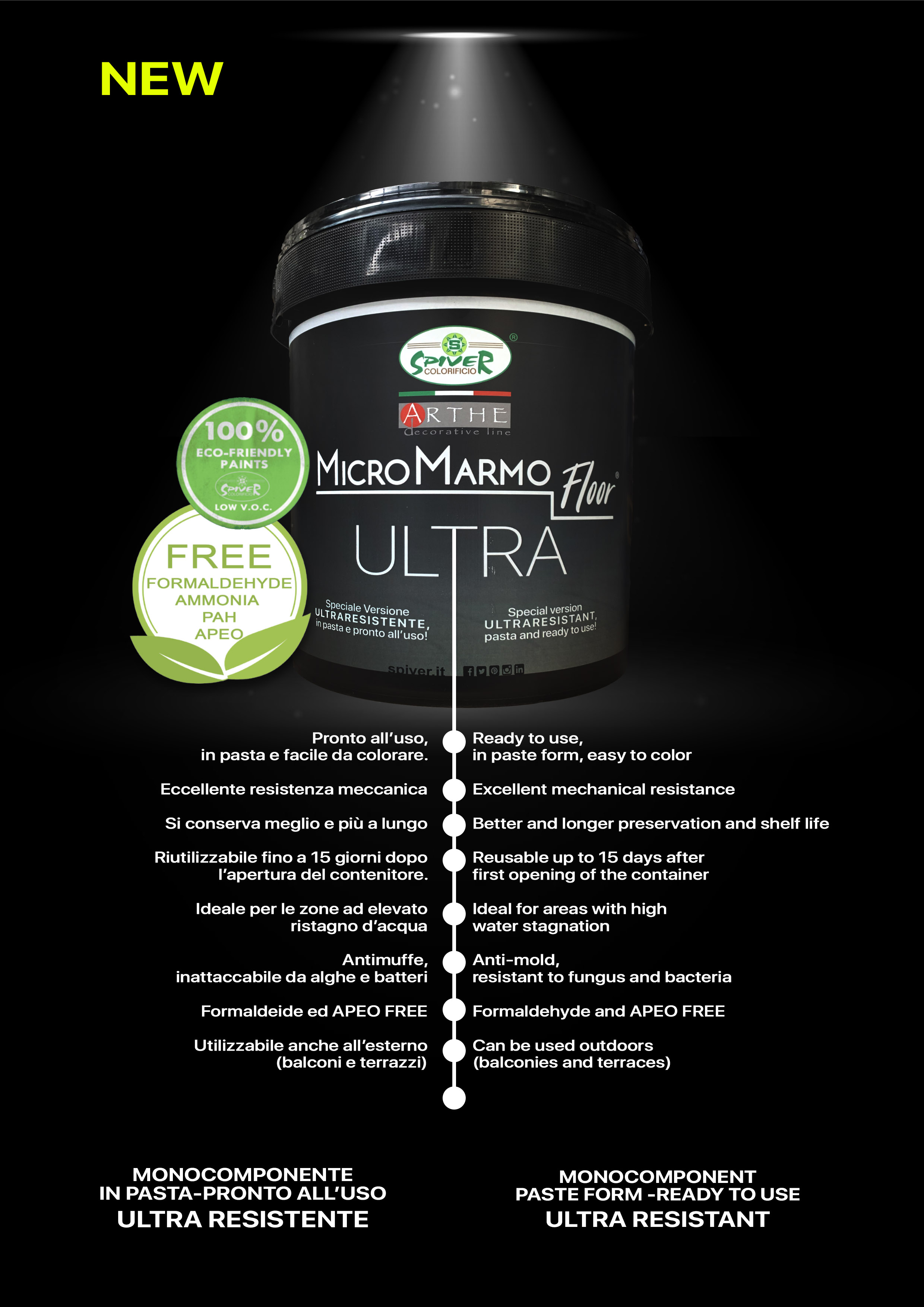 Product Videos